Thousands attend memorial service for workers who died in an tragic car accident earlier this month.
by the Relations & Sustainability Team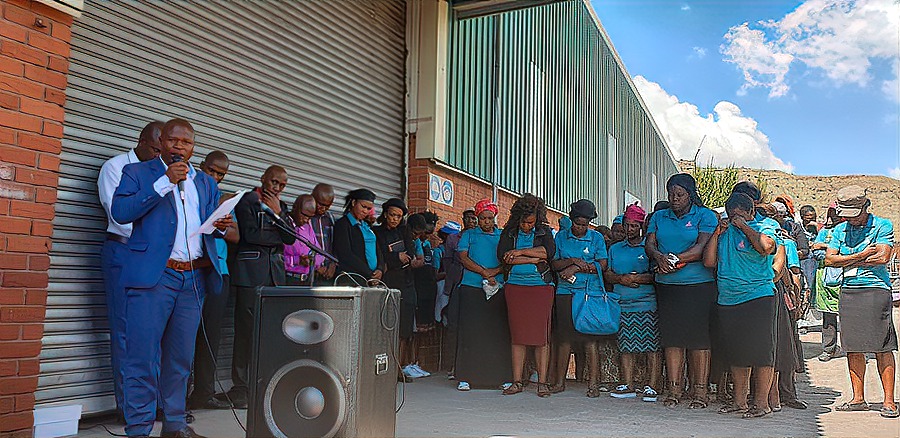 The hour-long service featured tributes to the 6 victims—all employees of Nien Hsing facilities in Lesotho—of a car accident which occurred on March 2nd this year, while on their way to Johannesburg for holiday in their private capacity.
More than 2,000 people gathered today, including representatives from the government, supervisors, and co-workers, to pay their condolences and express sympathy. The event started with songs from Global Choir, and prayers led by representatives from C&Y Garments, Nien Hsing International and Global Garments. Everyone was touched by the local hymns and prayers,
Considering the funeral services is a heavy burden to the families of who lost their loved ones, Nien Hsing factories Lesotho donated M2,000 to each family, to help them through the hard time. Nien Hsing also offered a job to the dependent of one of the victims, who became the breadwinner of the family following the incident. On behalf of Nien Hsing group, Lesotho Regional Director, Mr. Felipe Feng, greeted the family members of the families and offered them the donations after the service. Mr. Feng said, "Nien Hsing is a big family, and it is really sad to have lost our family members, but we must take care of ourselves so our loved ones can rest peacefully."
On behalf of The Minister of Finance, Mr. Mphonyane Lebesa attended the service to express his grief and said, "We are all saddened by this tragedy, but we believe our loved ones will rest in peace in heaven." Counsellor Ms. Makham Sam, also encouraged family members of the victims and who were on site, to seek out professional counselling to release their emotions, preventing possible post traumatic stress.